| | | |
| --- | --- | --- |
| 2002-10-17 | | Workaholics need to delegate, set time aside for themselves and for family |
The Toronto Star, Section K - Thursday, October 17, 2002
SUCCESS PALES 'IF YOU DON'T HAVE HAPPY FEELING'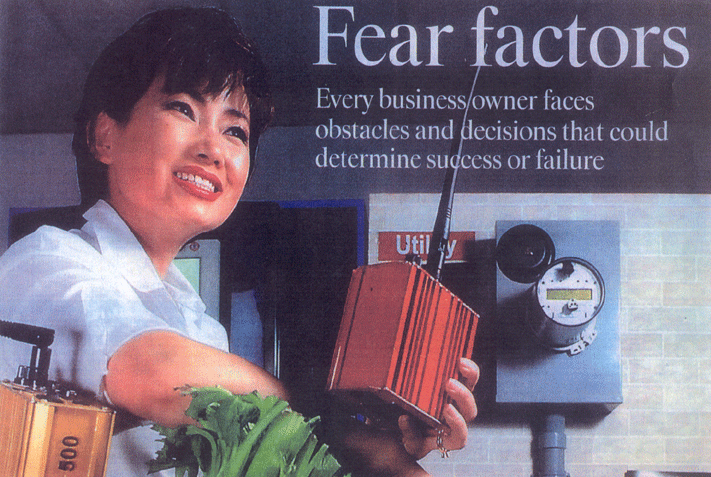 BY MICHAEL B. DAVIE, STAFF REPORTER
Workaholics need to delegate, set time aside for themselves and for family
Stella Yoon knew her life was badly out of balance.

"I was working all the time - we hadn't had a vacation in six years," recalls Yoon, 39, president and CEO of cStar Technology Inc.

"Work was really cutting into my family life," she adds. "I'd take my work at home with me on weekdays and weekends and work non-stop - I'd send out e-mails at 3 a.m."

Yoon was no longer enjoying her entrepreneurial role at the company she founded in 1998 to integrate wireless information technology systems with non-IT devices such as vending machines or metres so purchases, inventory levels, or energy/water usage can be tracked by computer from off-site locations.

"It's not enough to be successful in business if you don't have happy feelings," says the Richmond Hill businesswoman.

Yoon was grappling with a familiar, perennial problem for small business operators, home office people and entrepreneurs: finding that right balance between work and home/family life.

"I sat down with my family and discussed this situation," says Yoon, noting she then changed her approach and no longer goes into the office on weekends, but instead spends most of the weekend with her husband Michael and their son Luke, 13.

She's also learned to delegate work responsibilities to her capable staff. And she set aside time to join her family watching a video or going out to movies. She also enjoys gardening.

Yoon's situation is a familiar one to Rosaleen Citron, 47, CEO of Burlington-based White Hat Inc., a firm that serves the growing market for computer security systems. The company has 22 employees serving more than 3,000 clients.

Citron, involved in computer security since 1996 and in information technology before that, finds her work fascinating and demanding.

So demanding in fact, that work can crowd into the Grimsby woman's family life and leave little time for husband Tom Slodichak, 49, and their children, Mathew, 19, and Andrea, 16.

For Citron, a self-confessed former workaholic, the turning point came when her daughter, a special needs child came into her bedroom where she was working on a computer and asked for help with her homework.

"I told her I'd help, I just needed a few minutes to wrap up my work," Citron recall. "Two-and-a-half hours later, I looked up from my computer and found my daughter sleeping - it was too late to help her with her homework - and I resolved this would never happen again."

For Citron, part of the solution lay in doing more work at the office and less at home. She had been in the habit of working ling hours at the office, then sometimes taking enough work home to keep her busy for days at a time before returning to her office to repeat the cycle.

"I've learned to balance things more, and that's helped my family life and business," explains Citron, who sometimes takes her laptop computer to her sundeck when the weather is nice. "Frankly, if you're 100 per cent focused on business all the time, you'll get eaten by it."

She has also learned to delegate: "At first it was like ripping my arm off," she confides. "I'm the type of person who has to do everything myself, so it wasn't easy."

"It's important to set priorities and to make sure you're setting aside some quality family time. That's how I found a balance and changed an unhealthy lifestyle that was all work and no play."

Elizabeth Verwey, president of Toronto-based HomeOffice Mentors, says many small business people and entrepreneurs work almost constantly in the mistaken belief that this is what's needed to succeed.

"Working hard, working long hours is accepted as a badge of honour," notes Verwey, 45, whose company provides consulting services and finds work/family balance solutions for busy people.

Verwey says a lot of small business people also mistakenly believe they can't ever say no to their clients.

"You should tell your clients you'll have to work on their contract a little later if you've got a vacation planned. In most cases, the clients will be agreeable.
"Unfortunately, a lot of small business people seem to think taking a vacation is a sign of weakness. In fact, a good break will help you return to work feeling refreshed and recharged and you'll probably find you're able to work more efficiently."

Verwey says the other problem with being a slave to your clients and canceling vacation plans is that this can cause havoc with your home life. "You can end up some real family problems if you're forever canceling plans and spending all your time working for clients. You need your family to be supportive and that's not realistic if you're always disappointing them."

She also advocates taking "microvacations" - short breaks of an hour to a couple of days - that take your mind off work and allow you to return to your job feeling refreshed.

Elizabeth Moultray is also something of an expert on the need to balance work and family lives.

Moultray, 42, is currently director of small business banking for Scotiabank and she's spent many years helping small business operators cope with financial and other business concerns, including the need for balance.

"Small business people and entrepreneurs tend to be extremely focused on building their business," notes Moultray. "Even when they're doing something family oriented, such as driving a child to soccer practice, they're often distracted by work and they put themselves under a lot of self-induced stress."

Moultray advises scheduling breaks and vacations and taking up an activity that takes your mind off work.

"You can't let work take over your life," she cautions. "You have to balance work with family time, breaks, healthy diet and exercise. Otherwise, you may find yourself burning out and hating a job you once loved."

And the question of balance isn't just an issue for people with families.

Pearse Murray, 56, is a single man who once lost himself in his job as a successful real estate sales representative for Toronto-based Bosley Real Estate.
"I worked seven days a week for years to get my business established and I allowed very little time for myself or anyone else," notes Murray, who now regrets shortchanging himself on time he could have spent with his much-loved nieces and nephews.

Murray, a client of Verwey's, says he's learned to set aside time for himself for walking and exercise.

He also takes Verwey-prescribed micro-vacations - "just an hour by myself in the afternoon to read" - that leave him feeling relaxed and focused on returning to work.

Murray was compelled to scrutinize his lifestyle when a recent bout with prostate cancer forced him to leave work for six months.

"I'm fine now, but something like that is a wake-up call that really makes you thing about what's important in your life."

"Finding the right balance is crucial. It's so important just to take time to enjoy life."

"I don't think very many people look back on their lives and regret that they didn't spend more time working."